Smart Tips for Choosing the ERP Software in Freight Forwarding Industry
December 18, 2020 Freight Forwarding
The world has ceased being how it was before COVID-19. Today, dramatic changes are experienced in almost all industries and modes of operations globally, and the freight forwarding industry is no exception. The industry has always been associated with complex and challenging operations so the strong revival in the present times requires extensive digitalization and focus on the right technology and solutions.

Enterprise Resource Planning

ERP Software is an integrated system that helps achieve a seamless operation of a business's major functions. It can be customized as per industry and business needs. However, choosing the right ERP software can be challenging due to a wide variety of options available. For an inherently complex industry like freight forwarding, this is of even more challenge as the aspects of system integration, configuration, features, regulation often add to the complexity of selecting the right fit solution.
Smart Tips for making an informed choice
Choose a cohesive system that provides:

1. End-to-end Integration

The very first aspect that business leaders must consider is whether the solution is integrated and meets the specific requirements of freight forwarding. The chosen solution must effectively manage all the aspects of operations as in import and export, consolidation, forwarding, trans-shipment, and others for various freight activities. Apart from providing the core functions, the ERP must integrate with the broader ecosystem connecting with Shipping Lines, Customs, Agents, Airlines etc.

2. Greater Visibility and Financial Controls

The system must allow the owners and the agents with financial statistics to help make the right business decisions at the right time. The system must ensure data integrity through the workflow, enable fast month-end closures, and track the profitability of every aspect of shipment.

3. Scalability

Prefer an ERP that is scalable and can be upgraded to support the increasing complexities and size as the business grows, to remove the redundant cost and provide economies of scale. This will fulfill one key goal of increased profit.

4.Configurability for your business
Choose a system that is configurable to suit your business needs without requiring modifications to the core software. The ERP should allow to create multiple hierarchies, departments and branches and help you connect to the logistics network without the need for a change request to the software.

5.Customer Support and Service Availability

Look for service provider's track record in offering good customer support and service availability for users. You should be able to get product support and management attention when you experience technical glitches to get your business back on track quickly. The Service provider must also use an intelligent ticketing system and provide good technical and product enablement.
Other Useful Tips:
1. Industry Expertise

Partner with a vendor that understands how your business works and has the ability to cater to your needs.  It can be a big advantage as you can leverage industry best practices built into the best ERP system.

2. Solution should be secure

Evaluate a system that provides multi-branch access to a highly secured and centralized database. Ensuring this would help avoid dealing with disjointed data groups that might cause disruption and delay, and even data duplication. It will help to maintain, work, edit data between all business units / branches and aid the owners in real-time tracking of profitability, payment, performance, and other details.

3. Strong document management and an efficient recording system

ERP solutions have comprehensive reporting, which are essential in the freight forwarding industry. The chosen solution must have a module of a smart document management system that can help store, track, and keep the details of all the reports and dashboards. Automated records and documents enable freight forwarder to reduce dependencies and risks associated with papers and manpower required to maintain.

4. Quick account setup and ease of onboarding new customer
Look for an efficient system which enables quick account setup for new customers and easy workflow configuration to avoid time wastage and increased costs. The ERP software for freight forwarding industry should allow your staff to handle daily operations without the need for extensive training.

In Future
It is imperative for every freight forwarding business to own technology and digitization and select an ERP System suitable to its need. The right solution would enable the company to achieve cost efficiency and maximize value generation. Implementation of an ERP solution is a big decision, but it would ensure long term success if proper due diligence is done.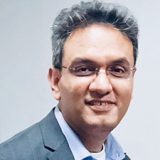 ---
---
Ashish Mishra
CHIEF EXECUTIVE OFFICER
---
---