How SaaS ERP platform can be the Game-changer for Freight Forwarding Companies
March 22, 2021 Software
Digital transformation has become a new necessity for organizations to succeed in the current hyper-competitive business scenario. Businesses working in the freight forwarding industry are no different. Apart from intense competition, they encounter a set of operational challenges, ranging from a shortage of shipper to ever-changing government regulations. It has become more critical now than ever before for freight forwarders to streamline the workflows and introduce innovative processes for business growth. That is where the SaaS ERP model can help them in multiple ways.
What is SaaS ERP?
SaaS ERP, which stands for Software as a Service Enterprise Resource Planning, refers to delivering solutions via the cloud. By taking advantage of modern technologies, today's SaaS ERP systems enable organizations to automate processes, boost efficiency and respond quickly to changing market conditions. With the increasing demand to improve operational efficiency among organizations, the cloud ERP market is expected to reach USD 101.1 billion by 2025.
SaaS ERP for freight forwarders
In the freight forwarding industry, SaaS ERP solutions are all set to transform the working nature of this industry. It works by directly addressing the root causes which lead to delaying of the processes in the logistics and transportation industry. By adopting SaaS ERP systems, shippers can significantly improve the supply chain visibility and avoid inefficiencies in the logistics process.

Read below to learn more as to why SaaS ERP is considered as a game-changer for freight forwarding companies.
Outperforms on-premise systems
Unlike on-premise systems, cloud ERP systems are deployed on servers that are managed by the vendors themselves. This system helps to reduce the capital requirement for freight forwarding companies. Further, the subscription structure of payment allows them to plan run costs effectively.

When compared with legacy freight management systems, cloud-based ERP offers a plethora of benefits. Accessibility is one of the key differentiators between on-premise systems and SaaS model ERP systems. It allows seamless data integration across devices and makes information available to all stakeholders anytime and anywhere.
A collaborative work environment
Given the various levels of complexity involved, communication and collaboration are critical for a smooth workflow in the freight forwarding process. With cloud-based ERP systems, users can share and communicate information in real-time. This way, in return, it helps by quickly resolving various problems of supply chain management. Since it is possible to restrict access to the cloud as per user role, issues can be resolved with minimum resources. In a nutshell, freight forwarding service providers can streamline the workflows cost-effectively using SaaS ERP solutions.
Ensures faster delivery
Meeting the changing customer expectations has been a constant challenge for freight forwarders. And ensuring faster delivery of goods is a critical factor that defines the success of a freight forwarding company.

SaaS ERP solutions optimize the logistics workflow, which in turn helps companies achieve the goal of faster delivery. With improved workflows, better coordination and collaboration between teams, and increased efficiency, it becomes easy for freight forwarders to reduce the delivery time.
Reduce IT spending
With on-premise systems, the company needs a dedicated IT department to provide the necessary development and maintenance support. In the SaaS ERP model, support and maintenance are handled by the respective ERP service provider. As the onus of fixing the technical glitches are on the vendor, organizations can avoid the stress of handling it. Thus, the SaaS model leads to reduced IT spending and greater profits.

Furthermore, they can avoid spending on cybersecurity systems and managing security protocols as well. Having a reliable SaaS ERP service provider onboard, helps enterprises protect their business from cyberattacks cost-effectively.
Continuous improvement
Another advantage of using a SaaS ERP solution is that it allows constant tracking and continuous improvement of processes. Organizations can quickly identify the issues in the workflow and take proactive measures to resolve them. Also, it is comparatively easy to implement new functionalities in cloud-based systems and conduct analysis using relevant metrics. In other words, it allows testing of innovative features and processes at the reduced expense for freight forwarders.
The bottom-line
Unfortunately, the shipping industry has been comparatively resistant to adopting technological innovations. With the changing business scenario and increasing challenges, it is now essential for freight forwarders to rely on advanced technology for improving business processes.

Adopting the SaaS ERP model is one of the promising ways that enables freight forwarders to address several critical issues in their work processes. SaaS ERP systems offer several advantages to businesses, including reduced costs and greater flexibility. It helps to lower capital expenditure, identify quality breaches, optimize work processes, and achieve higher profitability. Furthermore, it ensures real-time access to data for users and facilitates seamless communication among teams working in supply chain management.

To sum up, SaaS ERP models have opened a new era of business for freight forwarders. By incorporating features based on advanced technologies, freight forwarders can further enhance their work processes and gain a competitive edge.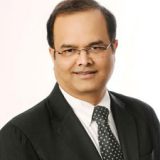 ---
---
Raj Parameswaran
CHIEF REVENUE OFFICER
---
---